KEYGHOST SX REVIEWS
KeyGhost Ltd is an award winning technology company.

KeyGhost Ltd - Winner
Champion Technology 2004
NetGuide Review: KeyGhost SX 512KB
by Nigel Horrocks - Editor, May 2004
Think of it as having a camera trained on your computer or bugging your phone...
Forget software, KeyGhost is incredibly easy to use, not even needing an installation CD. Just plug in and the "recording" begins.
We tried KeyGhost SX and found it worked exactly as promised. Everything we typed, everything we did, everywhere we went was recorded and the information easily retrieved.
As a way to detect what people in your household or office are doing on the computer, it's a clever little spy...
RoboPimp Hardware Review: KeyGhost SX 512KB
by Tom on April 1, 2004
World Class Security and Audit Tool...
The first thing you'll notice is that it's tiny. After it's plugged in, you can hardly tell it's there. Spy enthusiasts will love its discrete profile, and all users will appreciate its unobtrusiveness.
All in all, the KeyGhost SX is easily one of the best security tools in any users arsenal.
The ease of use, compatibility, security, and practicality of the KeyGhost SX make for an amazing and essential product for anyone...
Review Score: 9.5/10
The NZ Herald - Technology Reviews: KeyGhost SX 512KB
by Peter Griffen on February 13th, 2004
Spyware for the home computer...
It's the digital equivalent of bugging someone's phone and now you can do it to anyone - your children, your colleagues, the love of your life if you're suspicious enough.
It's the KeyGhost SX, a tiny device that sits between your keyboard and computer and remembers every keystroke you make - up to two million of them - no matter what computer program or internet window you are typing in.
KeyGhost's trump card is simplicity. It's the ultimate in plug and play, or plug and snoop. Simply plug in the device
There's no set-up process, no CD-ROM to be loaded. It works across all operating systems from Windows to Linux to OS/2 and Dos, is 128-bit encrypted, does not need batteries and can be accessed on a different computer.
Any word processing software - Word Perfect, MS Word, Notepad WordPad - will display the contents of the device. Typing a default password "vghostlog" brings up a "ghost" menu which controls access to the KeyGhost's brain.
KeyGhost internal compression strips out the rubbishy keystrokes.
Firewall and virus scanning software obviously won't pick the KeyGhost up - they're sniffing around your internet connection and stored files. Spyware detecting software generally searches the hard drive for files associated with key-logging programs. That's the beauty of a hardware-based keylogger, it's much harder to detect.
The KeyGhost has huge potential as a safety tool if used appropriately.
Still, there is infinite possibility for misuse. Imagine someone sneaking into your home office to slip a KeyGhost into the system. You would never know it was there.
Either way, it's a powerful little tool...
Review Score: 8/10
PC Magazine: KeyGhost SX 2MB

YOU CAN'T BEAT THE KEYGHOST SX...
For simple keystroke recording, you can't beat the KeyGhost SX hardware keystroke recorder. KeyGhost sits between the keyboard and the PC, is barely 2 inches long, and can record 2 million keystrokes.
Review Score: 4/5

KEYGHOST SX IN THE NEWS
PC World - The Wire: KeyGhost SX 512KB

KEYGHOST KEEPS TRACK...
Want to know where your kids, partner or employee's been surfing, what messages they've sent — or just what they've been typing on their PC, full stop? KeyGhost has released a slimmer, more home-user friendly version of its keystroke-logging device that will do just that.
Existing versions of KeyGhost have been used by military bodies including NATO, secret agencies and large corporates for several years to monitor computer use by recording up to two million keystrokes on a Flash memory chip.
Companies can use Key­Ghost to detect unauthorised or unacceptable use of computers. KeyGhost SX can be used as a backup device because it records all work using protected 128-bit encryption.
SolutionsReview: KeyGhost SX 2MB

KEYGHOST IS A BRILLIANT DESIGN...
The demand for 'need to know' tools are ever rising - online pedophiles, multimillion dollar divorce settlements, heart wrenching child custodies, highly competitive technology markets and terrorism - some of the factors contributing to the 'need to know' what others are doing on a computer system - emails, chats, websites visited, spreadsheets. Many of these tools are inexpensive and easily bought online....hidden inside are clever electronics than can record up to 2 million keystrokes without intervention!
The most compact and undetectable key logger is KeyGhost SX - it doesn't require the spying party to log into your computer - just physically slip the tiny module in - and then remove it when its duty is completed - there is no way that the user can detect with his system that he is being monitored - unless pysically checking and identifying the module.
NEW ZEALAND PC WORLD: KeyGhost SX 512KB
by Chris Keall on Monday, 1 December, 2003

DIY BIG BROTHER...
KeyGhost has released a new, home user-friendly version of its Key Logger product, a widget you physically plug into a keyboard to record every web move, email or chat message anybody makes.
It's no-brainer stuff: DIY Orwell.
KeyGhost is the fastest way to monitor your PC!
No software installation is necessary to record or retrieve keystrokes.
Patent Pending built-in access menu for high-speed transfers.




INSTALLS IN UNDER 5 SECONDS!



KeyGhost plugs in between your keyboard and Desktop PC.
Tamper evident seals - included - help detect unauthorized removal of KeyGhost.




PROTECT YOUR SENSITIVE PCs.
KeyGhost security tools allow you to easily monitor anyone's computer activities.

Once installed, KeyGhost discreetly captures and records all keystrokes typed, including chat conversations, email, word processor, or even activity within an accounting or specialist system.

KeyGhost is completely undetectable by software scanners and provides you with one of the most powerful stealth surveillance applications offered anywhere.

Unlike software keyloggers that can be switched off or have their stored keystroke data modified, stolen or erased, KeyGhost is an unobtrusive hardware device and only you can read the data inside.

Because KeyGhost uses STRONG 128-Bit encryption to store the recorded data in it's own internal memory (not on the hard drive), it is impossible for a network intruder to gain access to any sensitive data stored within the device.




PATENTS PENDING
KeyGhost SX uses a Patent Pending method to enable the highest speed transfer currently achievable - over 450 characters per second - without the need for special adapters, or even to unplug the device. This is 3 times faster than the 'KeyGhost' and 'KeyGhost II' models.*
KeyGhost's built-in 'Ghost menu' system allows you to retrieve and privately view what has been recorded using any standard text editor (e.g NotePad, WordPad...etc).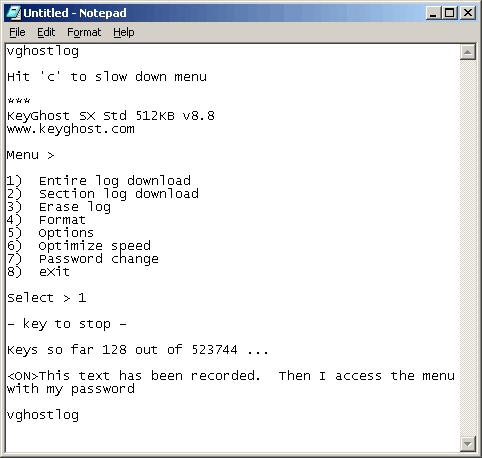 KEY BENEFITS

Easy to install in a few seconds! Simply plug it in and record everything that is typed on the PC. One of the most powerful security tools available.



No new software to install or learn.



Keystrokes can be retrieved on the spot – or unit can be unplugged for retrieval on another computer.



Impossible to detect or disable using software scanners (SpyCop, Who's Watching Me...etc).



Stores many months worth of keystrokes in non-volatile flash memory (same as in smart cards) that doesn't need batteries to retain storage.



Works on all desktop PCs & all PC-compatible operating systems (Windows, Linux, Dos...etc).



Uses no system resources. Will not slow down or affect the PC.





WHO IS USING KEYGHOST?

As a security tool for computer fraud investigations.



As a monitoring device for detecting unauthorised access.



As a deterrent, to prevent unacceptable use of company resources.



As a back up tool which creates a log of all keystrokes typed on a keyboard.

Read more

Kit Includes: KeyGhost SX. Instruction sheet. Warranty card. Tamper evident seal.
Example notification banner as recommended by U.S. Department of Justice.

PS/2 KEYBOARDS ONLY
System Requirements: Desktop IBM PC compatible. PS/2 (small round plug) keyboard.
KeyGhost SX works on ALL PC operating systems (Windows 95,98,ME,NT,XP,2000 Linux, Beos, OS/2, Dos, Sun Solaris).
* Patent Pending high-speed transfer mode - 'KeyStream'™ - will work with most modern Desktop PCs.
> PLEASE NOTE: USB keyboards (small rectangular plug) are not currently supported.